ROYAL CARIBBEAN ANTHEM OF THE SEAS
JUNE 5-17, 2017
3 DAYS IN NEW YORK AND A 9 NIGHT BERMUDA/CARIBBEAN CRUISE FOR THE BEST ENTERTAINMENT AT SEA!
Departing New Jersey 

Visiting Bermuda, St Maarten, San Juan, Labadee, Haiti,
 New York, NY
Enjoy an exhilarating three-day trip to the "Big Apple"! Explore all that New York has to offer from the towering Empire State Building to the bustling Times Square, there is plenty to see and experience in the "City that Never Sleeps". During your stay you will have a ticket to a spectacular performance on Broadway with "show options" ranging from the ever-popular Lion King to the classic Phantom of the Opera. Immerse yourself in the culture and experience that is quite simply, New York.
Then board The Anthem of the Seas for the most spectacular entertainment at Sea!
*Hotel, Theatre tickets ( SORRY NOT HAMILTON)
*Tour of Statue of Liberty, 911 Memorial and more Included
Price Starting at $3185.00 Per Person Double Occupancy
Call our Cruise Expert Tom To Book!  800 957 2572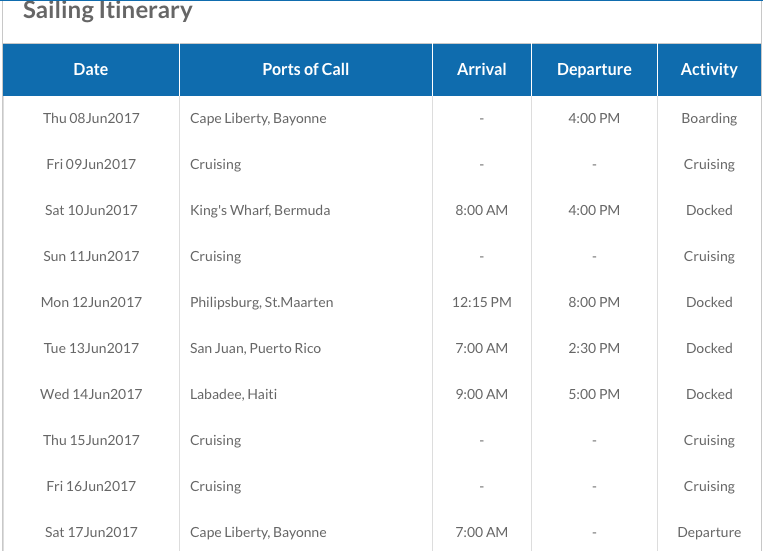 Price includes June 5th -17th (additional nights available)

June 5th- Group Bus From Santa Clarita to the Airport

June 5th- Roundtrip Economy Air from Los Angeles (Business available at an additional cost)

Hotel in NEW YORK (Double Occupancy)

Roundtrip Transfers -Theatre Tickets* (Theatre tickets based on availability, extra tickets also available for purchase)

NY Tour to Include Statue of Liberty, 911 Memorial and more

June 8-17, Balcony Cabin on the Anthem of the Seas, Taxes, Port Fees, Ship Gratuities

Private Escort*

One Broadway Show based on availability*

Private Group Escort (based on the group meeting a minimum of 40 people)

Group Return Bus from Airport to Santa Clarita*(If you fly with group)
Call Our Cruise Expert Tom 
To Book!  800 957 2572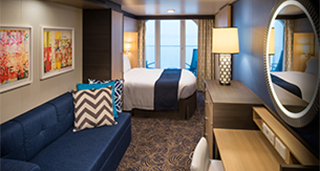 SUPERIOR OCEAN VIEW BALCONY ON THE ANTHEM OF THE SEAS
Optional Trip Cancellation Insurance available Whodunit Travel suggest you purchase.
ENTERTAINMENT ONBOARD THE ANTHEM OF THE SEAS
WE WILL ROCK YOU
The spectacular Olivier Award-winning musical phenomenon that rocked over 6.5 million people in a record-breaking 12 years at London's Dominion Theatre. Written by legendary comedian and author Ben Elton and with a score of killer Queen tunes such as "Radio Ga Ga", "I Want to Break Free", "Bohemian Rhapsody" and of course "We Will Rock You", it's the champion of all musicals!
THE GIFT
An original Royal Caribbean production created exclusively for Anthem of the Seas®, is a musical journey of fantasy and illusion that begins one stormy night with the arrival of a "Magical Gift". A beautiful production that is sure to delight, inspire and touch the hearts of all who come to see The Gift.
SPECTRA'S CABARET
An original Royal Caribbean production created by Moment Factory, exclusively for Anthem of the Seas®. In Spectra's Cabaret the Maestro and his Agents of Rhythm invite you to an electric multi-dimensional cabaret where you will be transported into invisible realms. Each night, the portal opens for a limited period of time and the audience can immerse themselves in a multi-media show brimming with kaleidoscopic sounds, effervescent colors, and dazzling movement. Spectra's Cabaret blends live performance and experiential cinema along with music from popular culture. It creates a world seen through the lens of music and technology, all the while exploring the deepest recesses of the heart.
Call Tom To Book!  800 957 2572